A Game Changer: the 2022 Ford F-150 Lightning
It's always exciting when a new Ford vehicle makes its way into the automaker's lineup, but it's particularly so when the Ford brand does something for the first time. That's what we've done with the 2022 Ford F-150 Lightning. This much-anticipated full-size pickup is the Ford brand's first-ever gas-free automobile, and it's taking the automotive world by storm.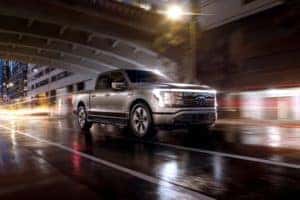 Ready to Pull Double-Duty
As a member of the best-selling Ford F-Series, the all-new Ford F-150 Lightning can do everything a gas-powered Ford F-150 can do, and it can do it all without releasing a single harmful emission into the atmosphere. What might surprise you even more is the truck's ability to serve as a generator.
If, say, lightning strikes near your residence and you lose power, the aptly named Ford F-150 Lightning can provide power to your home. More specifically, the truck can supply full power to a typical home for three days. If you ration the power, the Ford F-150 Lightning can keep the lights turned on for up to 10 days.
When you stop by our Omaha, NE Ford dealership, we'll show you that you can even use the Ford F-150 Lightning as a power bank for your tools. Outfitted with 11 120-volt outlets and one 240-volt outlet, the pickup is a great asset for DIY projects and an empowering resource on any job site.
Estimated Driving Range
Local drivers don't have to ask, "Is there a Ford dealer near me who'll tell me how far the 2022 Ford F-150 Lightning can travel on a full charge?" because we're about to spill the beans. When the truck has the standard battery, this EV can travel up to 230 miles. If it runs on the available extended battery, its estimated driving range increases by 70 miles.
Are you ready to join the electrification movement? Contact our Ford finance center to learn about our Ford F-150 lease deals and finance incentives.
Standard 4×4
Like the other Ford vehicles in our new car inventory, the 2022 Ford F-150 Lightning provides a smooth, comfortable ride. The truck's standard 4×4 system makes quick, breathless work of challenging terrain and wintry conditions.
A standard independent rear suspension prevents bumps from being intrusive no matter how uneven the road or a trail might be.
If you're looking for a Ford F-150 for sale, we encourage you to visit our location to see the 2022 Ford F-150 Lightning. A truck, an EV, and a whole lot more – we can't wait to see you in the game-changing Ford F-150 Lightning at Woodhouse Ford of Omaha.