Ford Trucks vs. Toyota Trucks
If you're in the market for a pickup truck, you have quite a choice on your hands. There are more makes and models than ever, so narrowing your decision down can be difficult. To start, you may want to think about comparing a range of brands.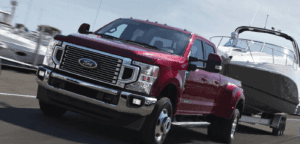 We've done some of the work for you by creating a head-to-head matchup of Ford trucks vs. Toyota trucks in some key areas:
Power
The Ford F-150 comes with a 3.3-liter V6 engine that puts out 290 horsepower and 265 lb-ft of torque. That's just for starters, however. There are also five other configurations to pick from, including a turbocharged 3.5-liter V6 that offers 450 horsepower and 510 lb-ft of torque and a 5.0-liter V8 that produces 395 horsepower and 400 lb-ft of torque.
The Ford F-250 comes standard with a 6.2-liter V6 that generates 385 horsepower and 430 lb-ft of torque. The other engine option is a 6.7-liter Power Stroke® turbodiesel V8 that puts out 450 horsepower and 935 lb-ft of torque.
The Toyota Tundra only has one engine choice: a 5.7-liter V8 that offers 381 horsepower and 401 lb-ft of torque.
The Toyota Tacoma comes with a 2.7-liter version with 159 horsepower and 180 lb-ft of torque. The other option is a 3.5-liter V6 with 278 horsepower and 265 lb-ft of torque.
Towing and Hauling
The Ford F-150 has outstanding towing ability. When that 3.5-liter V6 is properly equipped, this new Ford can tow up to 14,000 pounds. For the most hauling capability, the V8 engine will let you haul up to 3,325 pounds.
When the Ford F-250 is properly equipped, it has a tow rating of 15,000 pounds. Its maximum payload clocks in at 4,323 pounds.
The Toyota Tundra and Toyota Tacoma can't match the Ford models in towing OR hauling. The best the Toyota Tundra can do is a 10,200-pound tow rating and a maximum payload of 1,730 pounds.
The numbers are even smaller for the Toyota Tacoma. It can only tow up to 6,800 pounds and haul up to 1,685 pounds.
To get an even better idea of why Ford trucks are the best in business, come down to Woodhouse Ford of Omaha to check them out in person.